This year's recycled art project involved smashing soda cans, reusing cardboard boxes and transforming the combined pieces into a unique work of art. Students explored the contemporary work of French artist Didier Triglia, before coming up with their own original designs based on his style and techniques.
Lots of sketchbook work and planning helped students to envision how they might transform the irregular 3-dimensional form of a crushed soda can into something new. Next came their favorite part of smashing the cans! After my first period made a noisy racket, I got smart and required that students do the smashing part outside.
Some students chose to reveal parts of the original can label within their design, while others covered up all the aluminum with acrylic paint. Do you see where the can is in each composition?

The background of each artwork includes heavy pattern, outlines and borders. Many students also incorporated extra can tabs, bottle caps and other recycled material.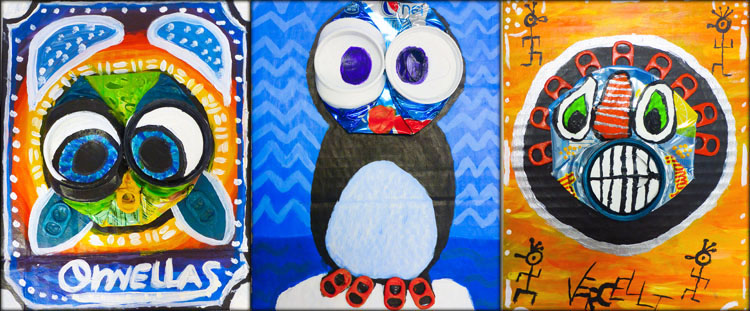 An article titled 11 Artists Doing Amazing Things With Recycled Materials by Jill Harness complemented this lesson by exposing students to other styles, materials, and ideas.
Finally, we looked at portraiture from one of the most influential artists of the 20th Century- Pablo Picasso. Students readily identified stylistic comparisons between Didier Triglia's "can heads" and Picasso's stylized and abstract faces.