This tile project was made possible by a generous donation from local ceramic artist, Nanette Butler. After retiring from her tile business, Agape-Aloha Isle Tiles of Hawaii, Nanette decided to share everything from bisqued tiles, colorful glazes, kiln furniture and even shelving with our school.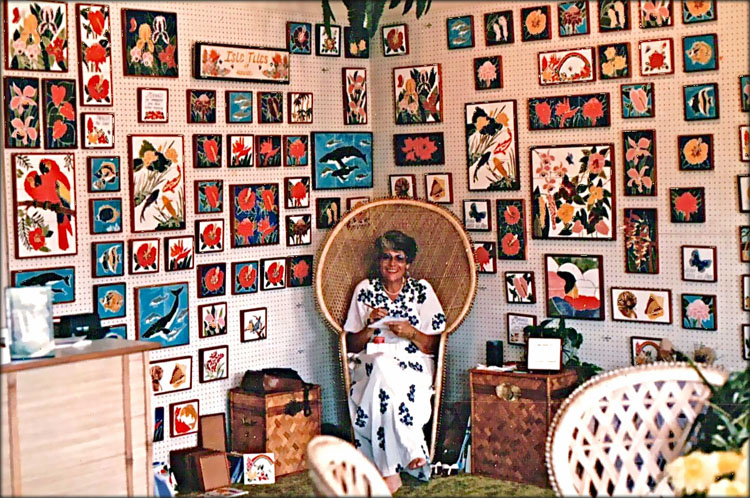 Pictured above is the artist in her shop, surrounded by all of her vibrant artwork. Mahalo nui loa, Nanette, for providing us with such high quality ceramic supplies and this amazing opportunity!
The floral and plant designs for this project were inspired by the Garden Isle's tropical foliage along with Art Nouveau style from the late 19th and early 20th centuries.
The history of ceramic tile is ancient, involving utilitarian uses along with regional and cultural decorative styles that span the globe. Art Nouveau tiles happen to be one of my personal favorite styles that also was easily adapted for our Hawaiian plant designs.
After several practice thumbnail drawings in their sketchbooks, students selected a flower or plant of their choice for a final design. Some popular designs included plumeria, hibiscus, haleconia, lotus, orchids, monstera and taro.

Students imitated Art Nouveau style by simplifying shapes, integrating curvy "whiplash" lines, adding a border or frame and making their designs symmetrical. Before applying glaze, a thin layer of wax resist was applied to all lines to create a white outline. Finally, a minimum of 4 glaze colors were applied to all unwaxed surfaces before the final glaze firing.

Each student brought home an original tile that can serve a variety of purposes. It can be used to protect furniture from a hot serving dish or glass, or it might be incorporated into a tile wall or backsplash as a feature design. Some may simply want to display it on a shelf for aesthetic enjoyment.
Thanks to Nannette, we still have some leftover tiles that I plan on using for a more collaborative project in the near future. Maybe a tile mural for our classroom is on the horizon!
The collaborative design above was created by six ambitious eighth grade students who had some extra time in class. They worked out the overall "outer space" composition together, and then each glazed her own tile. This will be an inspirational example for next year's project!