Kapa'a Middle School's Art students finished their tiki sculptures with either a pure white or natural brown glaze.  By limiting to one glaze color, the emphasis of this 3-dimensional work remains  the carved textures, modeled form, and sculptural details.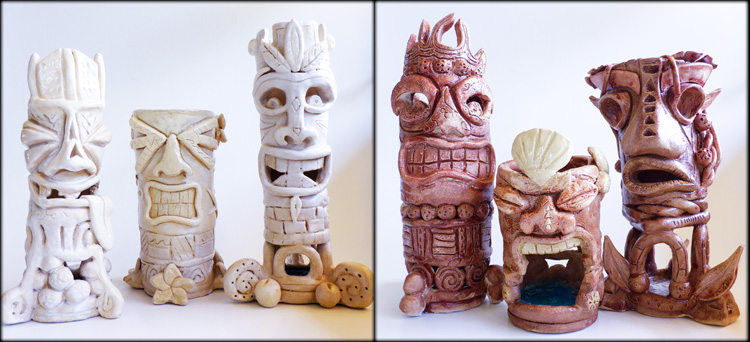 In addition to expressive tiki characteristics, some students chose to include added symbolism to represent a specific hawaiian tiki god or their own special meaning.
While mainly decorative, the tikis can also serve a variety of functions, from garden art, candle holders, incense burners, or creative containers to hold knick-knacks. Â Melted colorful class at the base adds a colorful surprise when you look inside!
The sculptures pictured here are only a few samples to represent a range of students from 6th, 7th, and 8th graders selected from all of my classes. Â In all there are 170 tikis that required a total of 500 lbs of clay, 5 gallons of liquid glaze, a number of kiln loads, and 4 months to complete!