The addition of a new 7th period literacy-focused class to my schedule inspired this folded book project. Luckily I had freedom to interpret the meaning of "Literacy" for myself and design my own Art-based curriculum. For our first project, each student folded a 3 to 4 letter word, and then wrote a blog post to explain the artistic process and choices.
Drawing inspiration from artist Isaac Salazar, students brainstormed a list of inspiring words. Many also selected a word that related specifically to reading, books, or learning. We discussed how certain books (specifically encyclopedias) are now being replaced with tablets and online technology. What better way to recycle old obsolete books than to transform them into a new sculptural art form?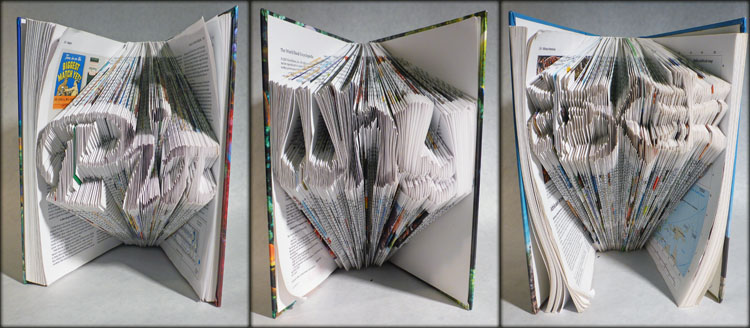 Our school librarian donated a two sets of old encyclopedias for our project that worked perfectly! It helps to have a sturdy hard cover and lots of pages for folding, and I'm happy that these discards won't be added to Kauai's growing landfill.